We held the Morning Pitch 5th in 30th(Wed) March.
The event intro was here:
Country:Singapore
Date : 30th(Wed) March.
Time: AM10:00-11:30 (Open AM9:40)
Venue: NUS Enterprise@Blk71
71Ayer Rajah Crescent #02-01 Singapore 139951
Subject: Large corporations and VCs who are interested in making investment, business alliance or acquisition.
We introduce startups as below.
LCO-Creation COO Saki Kobayashi
LCO has developed "Travel Door," a mobile app that allows travelers to access local travel information and navigate the city without using the internet. The app provides users with tour packages, coupons, and a plethora of unique features that help travelers enjoy an unforgettable trip.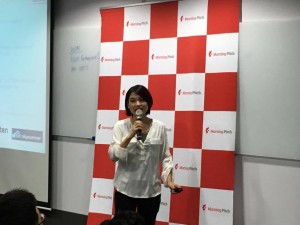 Kiranum Labs CEO Eeshan Kulkarni
http://kiranumlabs.wix.com/home
They provide high-speed LiFi solutions for different industries based on their application needs. Our uniqueness stems from our patented LEDs, which have a collosal modulation bandwidth. This allows us to access transmission speeds unattainable for our competitors.
SMS24/7 Director Qian Li Loke
SMS24/7 Pte Ltd makes Companies able to hire enough blue collar workers due to a contact breakdown, hence reducing revenue and even leading to the closure of outlets and businesses with Hiring Process Optimization.
Apvera
Apvera develops an insider-threat prevention solution that helps companies easily understand potential security breaches in real-time. They can identify high risk threats and prevent data leakage while protecting confidential information. The data-driven service makes it easy for firms to quickly detect internal & external suspicious, anomalous activity.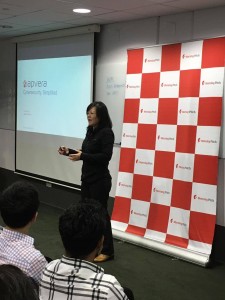 Tookitaki CEO Abhishek Chatterjee
Tookitaki is a data intelligence startup focused on consumer behavior discovery and prediction. It helps advertisers reach customers at the perfect moment and increase customer engagement. Recently, the startup began expanding its services to provide data analysis and predictions about customer behavior, marketing, and product sales for companies.
 Contact
We' are going to hold the Morning Pitch every month.
If you have any questions or request, please feel free to contact us.
E-mail: morningpitch@tohmatsu.co.jp
Naotaka Nishiyama, Producer of Morning Pitch