2015年07月30日
We held the 1st event of the Morning Pitch in Singapore.
The purpose of the event is to create business alliances between startups and big enterprises.
We try to the Morning Pitch to expand to be a global platform.
Date :29(Wed),July
Time: AM10:00-11:15
Venue:Google Singapore Office
Attendees: Big enterprises, VC
1st:YoYo Holding
http://yoyo-holdings.com/
Rewards-based mobile Internet platform that provides mobile Internet connection in exchange for user engagement.
YoYo Holdings created two apps, PopSlide and Candy, which provide mobile internet connection for users that view information and complete tasks on these apps. The company's mission is to use incentive-based mobile airtime "loads" to help connect the "next billion" users to the Internet.
CEO: Yosuke Fukada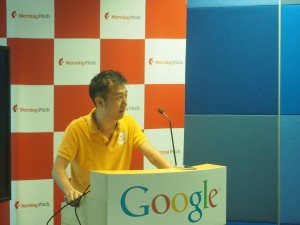 2nd:ClUBVIVRE
http://www.clubvivre.com/
Book a chef in Singapore – Platform for hiring restaurant and private chefs to cook for you and your guests in your home.
Clubvivre lets users invite friends for an enjoyable dining experience with a private chef. Users choose a menu item ranging from dinner, BBQ, canapés and buffet based on their budget and then the chef arrives and takes care of everything, including ingredients and cleanup.
CEO: Andries De Vos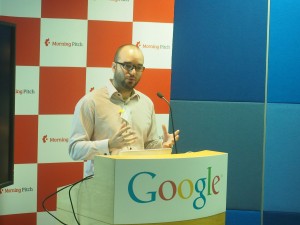 3rd:Smove
https://www.smove.sg/
Sustainable and convenient car sharing in Singapore
Flexible car sharing in Singapore. Its customer experience focuses on convenience and sustainability with a fleet of clean vehicles. Options include hourly rental and weekend packages.
CEO: Tom Lokenvitz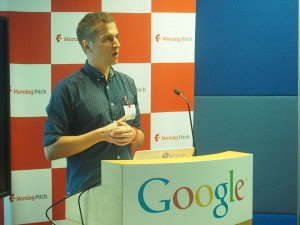 4th:Dyna Optics
http://www.dynaoptics.com/
Creates optical zoom hardware for devices such as mobile phones with smaller physical footprint through innovative lateral lens technology
Lens manufacturer that uses new lateral lens design to achieve optical performance without the bulky footprint. It uses manufacturing and assembly techniques from mature industries to create low-cost, high-volume, high-quality product with lower risk and capital.
CEO: Li Han Han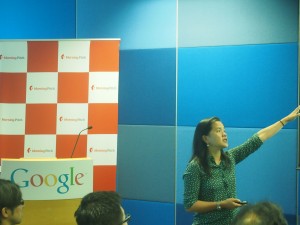 We' are going to hold the Morning Pitch in September.
If you have any questions or request, please feel free to contact us.
E-mail: morningpitch@tohmatsu.co.jp
Naotaka Nishiyama, Producer of Morning Pitch